TUFO CALIBRA clincher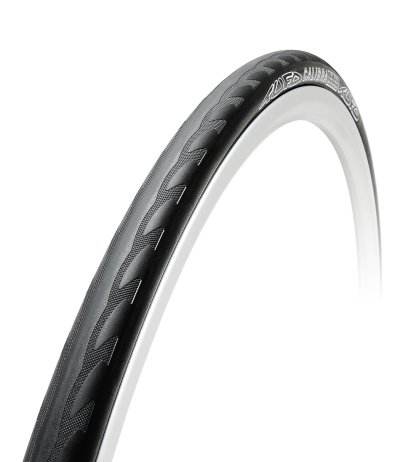 Use
All around racing, training
Size
700 x 23 / 700 x 25
Weight*
205 grams / 220 grams
TPI

120 / 240

threads per inch

Pressure

90/145 psi (700 x 23) 90/130 psi (700 x 25)

Protection Belt
Puncture resistant layer
Casing
Priority
Rubber tread
SPC Silica tread compound
Inner tube
None supplied
Valve
based on tube used
Mileage
Dependent on riding conditions & riders weight
*manufacturers claimed weight
All-around racing/training tyre
Bead to bead sidewall protection and puncture proof ply under the tread effectively decrease the possibility of flats. Fine tread pattern together with activated silica tread compound provide excellent adhesion on wet or dry pavement.
700 x 25 205 grams √ stock item
700 x 28 220 grams √ stock item
$29.95 each PURCHASE TIRES
tufotires.com is a website of WORLD CLASS CYCLES LLC.
207 219-8858