VALVE EXTENDERS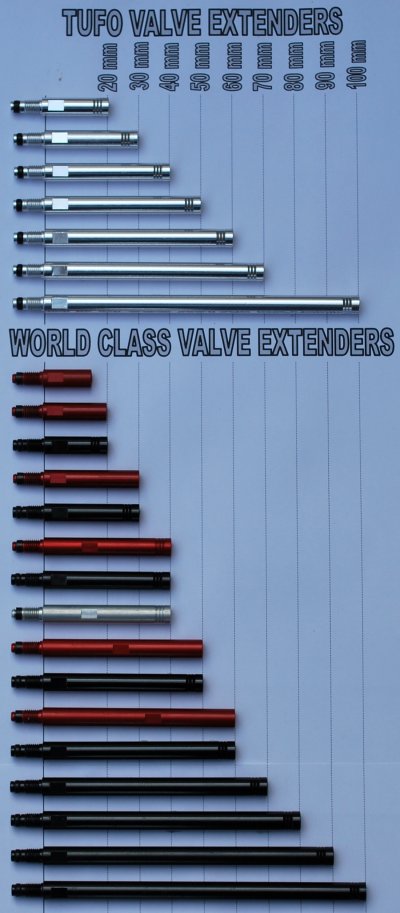 Tufo Valve extenders 20mm 30mm 40mm 50mm 60mm 70mm 100mm alloy
World Class Cycles valve extenders special anodized finish
15 mm 20 mm 30 mm 40 mm 50 mm 60 mm 70mm 80mm 90mm 100mm 6061 T6 aircraft aluminum alloy
PURCHASE WORLD CLASS EXTENDERS
For high profile rims. An advantage of this extension is by its position between the valve body and the valve itself. Protruding from the rim is the valve, not the extension thus making inflation, tire pressure adjustment or complete deflation very easy. The extension is provided with a sealing O ring, eliminating leaks and the need for teflon tape
NOTE: Unlike inferior valve extenders that screw onto the outside of the stem, these valve extenders allow for closing of the valve core after the tire is inflated.
NO MORE WONDERING WHY YOU ARE LOSING AIR PRESSURE.
PURCHASE VALVE CORE REMOVAL TOOL
CALCULATE VALVE EXTENSION SIZE
TUFOTIRES.COM is a website of WORLD CLASS CYCLES LLC.
207 219-8858